Victoria West
Role at the Clinic: Chiropractor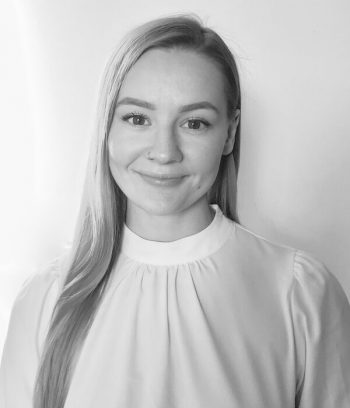 Qualifications
MChiro DC LRCC
Therapies offered
Chiropractic Treatment,
Pregnant patient assessment,
Dry Needling,
Shockwave Therapy,
Soft tissue work,
Fascial release,
health and lifestyle advice.
Background
Victoria spent part of her childhood in South Africa and contended internationally for the South African Karate team for several years before suffering a knee injury. It was chiropractic care that aided her return to activity and gave her the confidence to get back to the sport she loved. The success of the treatment inspired Victoria to pursue her own career in chiropractic. Having moved to Ireland, it's no surprise that Victoria has also worked pitchside as a Sports Therapist with Gaelic Football teams!
Victoria graduated from the prestigious Anglo-European College of Chiropractic in Bournemouth, with a first-class. She has previously worked in Dundee treating a range of patients from children to older adults, as well as top-level athletes. Victoria is also qualified in Dry Needling and Shockwave Therapy and she has a particular interest in supporting pregnant patients. 
Victoria feels that an active lifestyle is essential to a long and healthy life, so,   outside of work, you will often find her working out in the gym, practising yoga or out walking her puppy in the Cotswolds. 
Approach
"Chiropractic provides a fantastic package of care using manual techniques, exercise and nutritional advice to look after your muscles, joints and nervous system. Every patient's health requirements are unique to them; my aim is to provide patients with care that is centred around their needs."
Testimonials from happy clients
Worked wonders on me
"I have been going to the Skelian Clinic for more years than I care to remember both for general 'maintenance' tweaks and also occasionally for a specific problem – sciatica being the most recent cause for visiting. Without exception, every member of staff is friendly, welcoming and professional. The fees are reasonable and I have always felt that I have been given enough time for treatment – if your problem needs a little longer you will get that time. Since Covid the staff have been scrupulous about hygiene and I have always felt very comfortable continuing to use their services. I see Victoria West and she has worked wonders on me on more than one occasion. Highly recommended."
Highly recommend
"Had my first appointment with Victoria today. I was very impressed … and I am not easily impressed. I have seen a few therapists elsewhere regarding a neck issue and none have explained the problem to me with such detail and eloquence as Victoria.
There is more.
I walked out of the clinic feeling very much better than when I went in… the pain almost instantly reduced following the treatment Victoria gave. And moving forward, she has devised a clear rehab plan to get rid of the issue once and for all. Highly recommended."
Victoria is a Wizard
"Have had back and neck issues for most of my young adult life, with doing a labour intensive job I figured it's time to finally get this sorted!
Victoria is a wizard! Incredibly helpful and explained everything in great detail to show me where the issue is and how I can treat it. Have been coming to Skelian for a few months now and I feel like a new man! Any pain or discomfort is immediately removed after seeing Victoria and she has supplied me with plenty of resources to help myself at home."
Absolute star
"Cannot recommend Skelian enough! Especially Victoria who is always above and beyond and an absolute star."