Benefits of Diagnostic Ultrasound in Cheltenham
Diagnosing musculoskeletal conditions
Issues and aches and pains relating to muscles and joints, also known as "musculoskeletal conditions" are among the most common health issues affecting individuals worldwide. These conditions encompass a wide range of problems, including joint injuries, soft tissue disorders, and degenerative diseases like arthritis.
The diagnosis and management of musculoskeletal conditions have traditionally relied on clinical examination, X-rays, and magnetic resonance imaging (MRI). However, in recent years, diagnostic ultrasound has emerged as a powerful tool with numerous benefits for assessing and managing these conditions.
At Skelian in Cheltenham, we offer diagnostic ultrasound as a fantastic diagnostic option for patients struggling with issues relating to their joints and muscles. Fast, accurate and cost-effective, the diagnostic ultrasound offered at Skelian is performed by our highly skilled and experienced specialist physiotherapist. Continue reading to find out more about the benefits of diagnostic ultrasound.
Non-Invasive and Radiation-Free
One of the foremost advantages of diagnostic ultrasound is that it is non-invasive and radiation-free. Unlike X-rays and CT scans, which expose patients to ionizing radiation, ultrasound relies on high-frequency sound waves to create images.
This makes ultrasound a safer option, especially for pregnant women, children, and individuals who need repeated imaging. Additionally, the absence of radiation reduces the risk of potential side effects associated with radiation exposure.
Real-Time Imaging
Diagnostic ultrasound provides real-time imaging capabilities, allowing healthcare professionals to observe the musculoskeletal system in motion. This dynamic visualisation is particularly valuable when assessing joint function, muscle contractions, and soft tissue abnormalities.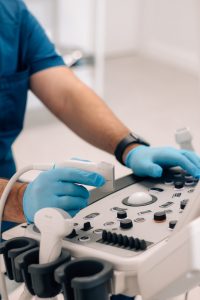 Real-time ultrasound can help clinicians identify structural issues that may
not be evident in static images, aiding in the accurate diagnosis and treatment of musculoskeletal conditions.
Improved Accuracy and Precision
Diagnostic ultrasound offers superior accuracy and precision in detecting musculoskeletal abnormalities. It allows for high-resolution images of soft tissues, tendons, ligaments, and muscles, which are often challenging to assess with other imaging modalities.
This precision enables healthcare providers to identify subtle injuries or abnormalities early on, leading to more effective treatment and better patient outcomes.
Cost-Effective
Compared to MRI and CT scans, which can be expensive, diagnostic ultrasound is a cost-effective imaging option. It requires less expensive equipment and does not involve the use of contrast agents. As a result, ultrasound examinations are more accessible to a broader range of patients, reducing the financial burden associated with diagnosing and managing musculoskeletal conditions.
Enhanced Guidance for Injections and Procedures
Ultrasound guidance has become invaluable for various musculoskeletal interventions, such as joint injections and minimally invasive procedures. The real-time visualisation offered by ultrasound allows healthcare providers to precisely target the affected area, increasing the success rate of injections and reducing the risk of complications. This minimises discomfort for patients and enhances the effectiveness of treatments.
Portability and Accessibility
Diagnostic ultrasound machines are compact and portable, making them accessible in various clinical settings, including sports medicine clinics, primary care offices, and remote locations. This portability enhances patient convenience and enables healthcare providers to perform assessments and interventions in a timely manner.
In rural or underserved areas, where access to advanced imaging may be limited, portable ultrasound machines can be a crucial tool for diagnosing and managing musculoskeletal conditions.
Reduced Wait Times
Compared to other imaging modalities with longer wait times, diagnostic ultrasound offers faster results, leading to quicker diagnosis and treatment initiation. This reduced waiting period can alleviate anxiety and discomfort for patients and improve overall healthcare efficiency.
Dynamic Assessment of Healing
Musculoskeletal conditions often require monitoring of healing progress over time. Diagnostic ultrasound can be used for serial assessments to track changes in the injured area. This dynamic approach allows healthcare providers to adjust treatment plans as needed and assess the effectiveness of rehabilitation exercises, ultimately promoting faster recovery.
Patient Education
The real-time nature of diagnostic ultrasound enables patients to actively participate in their healthcare. By visualising their condition and treatment progress, patients gain a better understanding of their musculoskeletal issues. This engagement can lead to increased compliance with treatment plans and a more positive outlook on the recovery process.
Overall diagnostic ultrasound has revolutionised the diagnosis and management of musculoskeletal conditions by offering a range of benefits. Its non-invasive, radiation-free nature, real-time imaging capabilities, improved accuracy, and cost-effectiveness make it a valuable tool in the healthcare arsenal.
Additionally, its portability, reduced wait times, and capacity for dynamic assessment of healing contribute to better patient care and satisfaction. As technology continues to advance, diagnostic ultrasound is likely to play an increasingly pivotal role in musculoskeletal healthcare, improving outcomes and enhancing the quality of life for countless individuals affected by these conditions.
Get in touch to find out more
If you are interested in diagnostic ultrasound or if you have a problem where ultrasound can help diagnose your condition give the clinic a call on 01242254000 to speak to one of our receptionists to book in for an appointment.
Free 15 minute chat with a practitioner
If you are not sure if an ultrasound scan is right for you, you can speak to one of our practitioners to discuss if ultrasound is right for you. If it's not, then we also have access to private MRI referrals if more appropriate. Before referring you for an MRI, we would need to perform an initial consultation to make sure an MRI is clinically justified.