Organic vs Non-Organic Food
Unveiling the nourishing truth
In the modern world, the age-old debate between organic and non-organic foods continues to spark discussions among consumers, health enthusiasts, and scientists alike. With an increasing focus on personal health and environmental sustainability, it's crucial to understand the nuances and benefits of both options before making dietary choices. Let's delve into the fascinating realm of organic and non-organic foods to unveil the nourishing truth.
Nutrient Density: Quality Over Quantity
When it comes to nutrient content, organic foods often take the spotlight. Organic farming practices emphasise the importance of soil health, relying on natural fertilisers and sustainable cultivation methods. As a result, organic produce tends to be richer in essential nutrients, vitamins, and minerals. Studies have shown that organic fruits and vegetables can contain higher levels of vitamin C, antioxidants, and other beneficial compounds.
Non-organic foods, on the other hand, may be grown with synthetic pesticides and fertilisers, which could potentially affect their nutrient composition. While non-organic produce still provides essential vitamins and minerals, the nutrient density might be comparatively lower due to less emphasis on soil quality and plant vitality.
Pesticides: Balancing Health and Environment
One of the primary concerns when choosing between organic and non-organic foods is the presence of pesticides. Organic farming strictly limits the use of synthetic pesticides, focusing instead on natural pest control methods and crop rotation. This significantly reduces the risk of pesticide residues in the final products, thereby minimising potential health risks to consumers.
Conversely, non-organic farming often relies on synthetic pesticides to protect crops from pests and diseases. While these chemicals can enhance yield and visual appeal, they might leave behind traces on the produce. Research has linked long-term exposure to pesticide residues with various health issues, including hormone disruption and even certain cancers.
Taste and Freshness: A Palatable Difference
Ask any food enthusiast, and they'll likely tell you that the taste of organic produce stands out. Organic farming practices that prioritize soil health and natural growth cycles contribute to the exceptional flavour of organic foods. The absence of synthetic additives and the reliance on traditional farming techniques allow the produce to develop its natural taste and aroma fully.
Non-organic foods, while still providing nourishment, might sometimes fall short in the taste department. The use of synthetic fertilizers and other shortcuts can influence the flavour and freshness of the final product. That being said, taste is subjective, and some individuals might not notice a significant difference between the two options.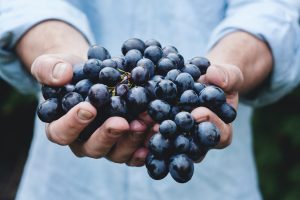 Environmental Impact: Sustaining for Future Generations
Beyond personal health, the choice between organic and non-organic foods also carries environmental implications. Organic farming champions sustainable practices that prioritise soil conservation, water management, and biodiversity. By avoiding synthetic chemicals and genetically modified organisms, organic agriculture promotes long-term soil fertility and reduces pollution in surrounding ecosystems.
Non-organic farming, however, can contribute to soil degradation, water pollution, and loss of biodiversity. The heavy use of synthetic chemicals and monoculture farming practices can lead to soil erosion, nutrient depletion, and disruption of natural habitats. Choosing organic foods can thus be seen as a vote for a more ecologically balanced and resilient planet.
Supporting Local Economies: A Community Connection
Organic farming often has strong ties to local communities. Many organic farms are small-scale operations that prioritise sustainable practices and support local economies. By choosing organic produce, consumers contribute to the livelihoods of these farmers and help sustain the traditions of small-scale, environmentally conscious agriculture.
Non-organic farming, particularly in large-scale industrial agriculture, might be more disconnected from local communities. The focus on mass production and distribution can sometimes lead to a lack of personal connection between the consumer and the food's origin.
Cost Considerations: Finding a Middle Ground
One aspect that often comes into play when discussing organic vs. non-organic foods is cost. Organic foods tend to be more expensive due to the labor-intensive and environmentally conscious methods used in their production. This higher cost reflects the investment made in sustainable farming practices and supports fair wages for workers.
Non-organic foods, on the other hand, are often more affordable due to economies of scale and higher yields resulting from intensive farming practices. However, it's essential to weigh this cost difference against potential long-term health and environmental benefits when making dietary choices.
The Verdict: Balancing Choices for a Healthier Future
In the grand organic vs. non-organic debate, there's no one-size-fits-all answer. Both options have their merits and considerations. If you're looking to maximise nutrient intake, minimise pesticide exposure, and support sustainable farming practices, organic foods might align better with your values. On the other hand, if cost is a significant concern and you want to make the most of your budget, non-organic options can still provide essential nutrition. One perspective is to see nutrition as investing in your health when you do your weekly shopping. 
Ultimately, the choice between organic and non-organic foods is a personal one, influenced by factors such as health goals, environmental consciousness, and budget constraints. It's worth considering a balanced approach – incorporating organic produce when feasible and supplementing with conventional options when necessary.
In a world where dietary decisions have far-reaching consequences, being informed about your food choices empowers you to make decisions that align with your values and well-being. Whichever path you choose, remember that each meal is an opportunity to nourish your body and contribute to a healthier planet.