Reset your Circadian Rhythm for Better Sleep
Welcome to our series on Health Hacks, where we discuss a range of health hacks from Dr Michael Moseley's "Just one thing" podcast to the "Biohacker" Ben Greenfield's book, "Boundless". We're going to discuss the small lifestyle changes that have reported health benefits, starting with how to reset your Circadian Rhythm and feel healthier and sleep better. 
A Brisk Walk
The mental health benefits of walking were made very clear to us during the Covid pandemic. We also know that walking briskly (approximately 3 miles per hour) improves our cardiovascular health. Indeed, a brisk walk gets the blood pumping around the body and helps us feel less sluggish. Perhaps worth a try if you're feeling sleep-deprived and reaching for a cup of coffee.
Speaking of sleep deprivation … why is the timing for your brisk walk so important? The body's mechanisms work on several cycles, some monthly, such as menstruation; while others work on a 24-hour cycle, known as the Circadian Rhythm, which is regulated in part by Melatonin and aligns our body with the rising and setting of the sun. Melatonin is the hormone that makes you feel sleepy.
Melatonin and the Circadian Rhythm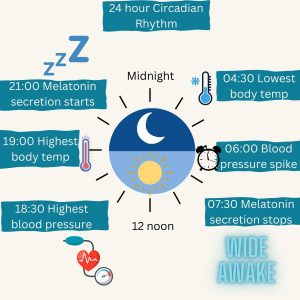 As melatonin is secreted in the evening, it prompts the other organs to switch to night mode, for example, to lower body temperature, and reduce metabolic rate and blood pressure. Melatonin is secreted as darkness sets in and peaks at about 3 or 4 am. It tapers off as natural light appears with sunrise, thus triggering an increase in body temperature, blood pressure, and metabolism to get our bodies ready for the day.
The problem is that the Circadian Rhythm isn't exactly 24 hours, it is often just over, and therefore if we followed our Circadian Rhythm exactly without exposure to daylight, our sleep times would become later and later and fall out of sync with the diurnal (daytime/nighttime) cycle.
So the very simple health hack to improve our health and sleep better is to be exposed to natural light within two hours of waking up in order to reset our body clocks daily. This works for shift workers too, as natural light suppresses melatonin and makes us feel alert by setting us up physiologically for the day. 
Not an early riser? No problem. You can build up slowly over a few weeks to make getting out of bed easier. As you wake earlier and are exposed to natural light (which suppresses melatonin), your body clock will come forward, allowing you to feel sleepy earlier in the evening, giving you a deeper, longer night's sleep, leaving you feeling well-rested and refreshed. 
Seasonal Affective Disorder (SAD)
The longer nights and shorter days in winter mean we often do not get enough light, leading to low mood and sometimes depression. Exposure to daylight actually releases serotonin, which is a mood-boosting chemical.
A good way to fit in your morning brisk walk is to make your commute to work the time for your brisk walk. Kill two birds with one stone as the saying goes.  If you start work while it is still dark, perhaps negotiate "a walk break" during daylight hours with your boss, after all, a well-rested and alert team member is worth their weight in gold. 
On a side note, people who have SAD have been shown to have lower levels of Vitamin D and unfortunately, in the UK we do not make enough from sunlight through October to February/early March. So it is especially important to make sure you either eat some of the following:
Oily fish
Red meat,
Liver,
Eggs
Some fortified foods containing vitamin D
or take a Vitamin D supplement. Talk to your health practitioner to see what is appropriate for you. 
Blue light blocks melatonin
Let's talk about light waves and how they affect us. Blue shortwave light is the signal for us to wake up. There is a higher proportion of blue shortwave light in the mornings and blue light blocks melatonin which is what helps us to wake up. On the flip side, we often use our devices throughout the evening when our melatonin levels should be increasing. As we know blue light blocks melatonin secretion which makes it hard for you to wind down. 
So whatever you do, get outside during the morning and why not add a brisk walk to help improve your circulation and mood. Always speak to your health practitioner to ensure it is safe for you to exercise. Our multidisciplinary team of Cheltenham Chiropractors, our Sports Therapist and Specialist Physiotherapist at Skelian, all specialise in musculoskeletal conditions and provide tailored lifestyle support and advice to all of our patients. 
If you would like to find out more, call our friendly reception team on 01242254000 or book online.